Vous êtes ici : Portail Institutionnel / Version française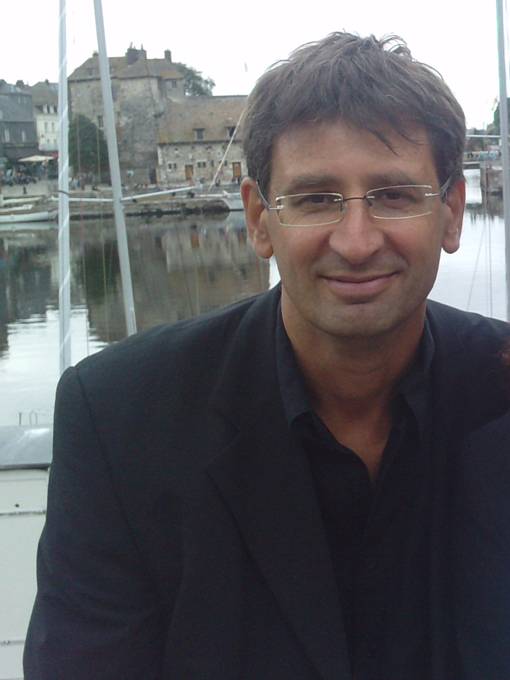 M. Giovanni De marco
Enseignant / Enseignant-chercheur
Coordonnées

UFR STAPS (bâtiment S) Bureau S307 - 200 Avenue de la République 92001 NANTERRE CEDEX FRANCE


Tél

01 40 97 57 55

Mail

Site personnel

Structure(s)
Disciplines enseignées
Mathématiques, Statistiques, Informatique, Biomécanique, Neurosciences, Neuroimagerie, Imagerie médicale
Thèmes de recherche
- Méthodologies en imagerie associées aux champs de la physique, de la biologie, des neurosciences, des sciences cognitives et de la santé - Imagerie cérébrale, musculaire et couplage des techniques éléctrophysiologiques - Exploration et identification de la connectivité structurelle et fonctionnelle des systèmes nerveux moteurs centraux et périphériques - Modélisation de circuits en réseaux - Développement d'approches intégratives - Pathologies cérébrale et musculaire
Curriculum Vitae

Résumé: Les progrès spectaculaires de la biologie moléculaire, cellulaire et de la génétique ont permis de progresser à grand pas dans la connaissance du cerveau, en particulier dans la compréhension des mécanismes microscopiques qui régissent notre vie organique. Dans le prolongement de ces travaux fondamentaux, les neurosciences (l'imagerie en particulier) tentent d'apporter un cadre nouveau pour expliquer le fonctionnement dynamique du système nerveux central qui sous tend de nombreuses fonctions cérébrales, qu'elles soient altérées ou pas, en essayant notamment de relier l'activité cérébrale mesurée en imagerie à une ou plusieurs dimensions contextuelles qui peuvent-être d'ordre psychologique, social, cognitif ou comportemental. Différents plans d'expérience (paradigmes) permettent d'opérationaliser des cadres théoriques à partir de données d'imagerie. Sur la base d'hypothèses théoriques, empiriques et de connectivité fonctionnelle, structurelle et anatomiques, des circuits et des réseaux complexes intégrant des informations cognitives, motrices et perceptuelles sont modélisés et analysés.

Publications référencées :
1) Destrieux C, Hommet C, Domengie F, Boissy JM, de Marco G, Joanette Y, Andersson F, Cottier JP. Influence of age on the dynamics of fMRI activations during a semantic fluency task. J Neuroradiol. 2012 Jul;39(3):158-66
2) Costalat R, Francoise JP, Menuel C, Lahutte M, Vallée JN, de Marco G, Chiras J, Guillevin R. Mathematical modeling of metabolism and hemodynamics. Acta Biotheor. 2012 Jun;60(1-2):99-107.
3) Liacu D, Idy-Peretti I, Ducreux D, Bouilleret V, de Marco G. Quantitative fiber tracking findings in cingulum fibers of patients with temporal lobe epilepsy. J Magn Reson Imaging. 2012 Sep;36(3):561-8.
4) Lehmann P, Saliou G, de Marco G, Monet P, Souraya SE, Bruniau A, Vallée JN, Ducreux D. Cerebral peritumoral oedema study: Does a single dynamic MR sequence assessing perfusion and permeability can help to differentiate glioblastoma from metastasis? Eur J Radiol. 2012 Mar;81(3):522-7.
5) Guillevin R, Menuel C, Taillibert S, Capelle L, Costalat R, Abud L, Habas C, de Marco G, Hoang-Xuan K, Chiras J, Vallée JN. Predicting the outcome of grade II glioma treated with temozolomide using proton magnetic resonance spectroscopy. Br J Cancer. 2011 Jun 7;104(12):1854-61.
6) Lehmann P, Monet P, de Marco G, Saliou G, Perrin M, Stoquart-Elsankari S, Bruniau A, Vallée JN A comparative study of perfusion measurement in brain tumours at 3 Tesla MR: Arterial spin labeling versus dynamic susceptibility contrast-enhanced MRI. Eur Neurol. 2010;64(1):21-6.
7) Liacu D, de Marco G, Ducreux D, Bouilleret V, Masnou P, Idy-Peretti, I. Diffusion tensor changes in epileptogenic hippocampus of TLE patients with and without hippocampal sclerosis. Neurophysiol Clin. 2010 Jun;40(3).
8) Perin B, Godefroy O, Fall S, de Marco G. Alertness in young healthy subjects: An fMRI study of brain region interactivity enhanced by a warning signal. Brain Cogn. 2010 Mar;72(2):271-81.
9) de Marco G, Devauchelle B, Berquin P. Brain functional modeling, what do we measure with fMRI data? Neurosci Res. 2009 May;64(1):12-9.
10) de Marco G, Vrignaud P, Destrieux C, de Marco D, Devauchelle B, Berquin P. Principle of Structural Equation Modeling for Exploring Functional Interactivity within a Putative Network of Interconnected Brain Areas. Magn Reson Imaging 2009 Jan; 27(1):1-12.
11) Lehmann P, Vallée JN, Saliou G, Fichten A, Monet P and de Marco G. Dynamic contrast-enhanced T2*-weighted Mr imaging : a peritumoral brain oedema study. J Neuroradiol. 2009 May; 36(2):88-92.
12) Querne L, Berquin P, Vernier MP, Fall S, Deltour L, de Marco G. Dysfunction of the attentional brain network in children with Developmental Coordination Disorder: a fMRI study. Brain Research, 2008, 1244, 89-102.
13) Quaglino V, Bourdin B, Czternasty G, Vrignaud P, Fall S, Meyer ME, Berquin P, Devauchelle B, de Marco G. Differences in effective connectivity between dyslexic children and normal readers during a pseudoword reading task: An fMRI study. Neurophysiol Clin. 2008 Apr;38(2):73-82.
14) Fall s., de Marco G. Assessment of brain interactivity in the motor cortex from the concept of functional connectivity and spectral analysis of fMRI data. Biol Cybern. 2008 Feb; 98(2):101-114.
15) de Marco G, Menuel C, Guillevin R, Vallée JN, Lehmann P, Fall S, Quaglino V, Bourdin B, Devauchelle B, Chiras J. Clinical interest of fMRI and functional exploration methods of brain activity and interactivity: Physical and neurophysiological considerations. J Neuroradiol. 2008 Jan 16; 1-13.
16) Guillevin R, Menuel C, Duffau H, Kujas M, Capelle L, Aubert A, Taillibert S, Idbaih A, Pallud J, de Marco G, Costalat R, Hoang-Xuan K, Chiras J, Vallée JN. Proton magnetic resonance spectroscopy predicts proliferative activity in diffuse low-grade gliomas. J Neurooncol. 2008 Apr;87(2):181-7.
17) Fall S., Lehmann P, Houdayer E., Ambarki K., Meyer ME., Vallée, JN., de Marco G. Contribution of the spectral analysis to the brain connectivity study by fMRI.Neurophysiol Clin. 2007 Aug-Sep;37(4):239-47.
18) Fall S., de Marco G. On multivariate spectral analysis of fMRI signals theoretical approach. Neurophysiol Clin. 2007 Aug-Sep; 37(4):229-37.
19) de Marco G, de Bonis M, Vrignaud P, Henry-Feugeas MC, Idy-Peretti I. Changes in effective connectivity during incidental and intentional perception of fearful faces. NeuroImage, 2006, 30(3):1030-1037.
20) Henry-Feugeas MC, de Marco G, Peretti I, Godon S, Fredy D, Schoumann-clays E. Pathogenesis of age-related cerebral white matter changes : Observations with high-resolution. Magn Reson Imaging. 2005 Nov; 23(9):929-37.
21) de Marco G, Idy-Peretti I, Didon-Poncelet A, Baledent O, Onen F, Henry Feugeas MC. Intracranial fluid dynamics in normal and hydrocephalic states: systems analysis with phase contrast MR imaging. J Comput Assist Tomogr, 2004, Vol 28, 2, 247-254.
22) Desbarats L, Herlidou S, de Marco G, Gondry-Jouet C, Le Gars D, Deramond H, Idy-Peretti I. Differential MRI diagnosis between brain abscesses and necrotic or cystic brain tumors using the Apparent Diffusion Coefficient and Normalized Diffusion-Weighted Images. Magn Res Imaging, 2003, 21 (6), 645-650.



Corps
PROFESSEUR DES UNIVERSITES
Informations complémentaires
Mis à jour le 15 janvier 2016
- Directeur du laboratoire CeRSM - EA 2931
- Directeur de l'équipe «Analyse du mouvement en biomécanique, physiologie et imagerie»
- Membre élu au CAC de la COMUE Paris-Lumières
- Membre élu au conseil de l'UFR STAPS Université Paris Nanterre
- Membre au conseil scientifique de l'ED 456
- Responsable du Master 2 "Psychologie et Neurosciences du Mouvement: Exercices, Performances et Santé"